Welcome to Dynamic Beaters
 Thank you to all who have made this possible. The patented Flexible Beaters are designed to improve Drummers ergonomics when performing. The first of its kind in the world! The FlexBeater makes for a smooth response with any conventional pedal. There is a slight flexion in the beater and that provides an enhanced rebound and shock absorption which just plain feels good and gives a nice open tone on the bass drum. Your engineers will love it too.
Feel The Flex!
Rich Farago
rich@dynamicdrumbeaters.com
Inventor of the Patented  Flexible Bass Drum Beater
All Rights reserved 
Patent US 9,911,402 B1 & US 9,881,594,B1
BUY NOW
Order Today
Double Bass Discount! 10% Off
Buy 2 and get 10% off order. Its all automatic.
Feel The Flex!
Adam Nussbaum
"My flex beater helps me groove and flow in a more efficient manner. I totally dig it" Adam Nussbaum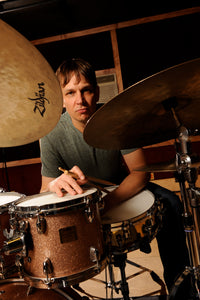 Keith Carlock
Photo by
Rob Shanahan
"The flex beater is a breakthrough. The flexible give helps tremendously with any leg shock and fatigue you may experience from hours of playing. And they feel great! Do yourself a favor and check them out." Keith Carlock
Dom Famularo Drumming's Global Ambassador
"I think of my feet as an extension of my hands! The feel of the beater hitting the bass drum head feels the same as my sticks rebound when I use the Dynamic Drum Beaters! They react the same as my hands and this gives me more freedom of expression!" Dom Famularo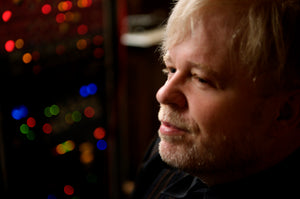 Anthony Resta "Ajax"
Mulit-Platinum awarded record producer, composer and vintage guitar collector. HMMA 2015 producer of the year
"Dynamic Beaters are the best thing to come into the drumming world in a very long time. Why no one had thought of this in over 100 years is beyond me. You will be thrilled and so will your right leg! It feels like power steering for your bass drum. Seriously! Ditch the old manual and move into the future. We have been using them non stop on all our sessions." Anthony Resta "Ajax"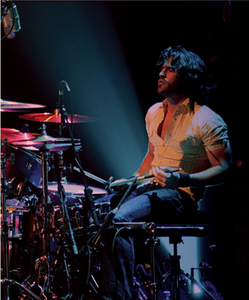 Ryan Hoyle
"Collective Soul, Paul Rodgers www.Livedrumtracks.com
I can't tell you how much I love these beaters. They have truly enhanced my playing ability and comfort much more than expected.
I can't wait to see the impact that these will have in the marketplace. Drummers worldwide are gonna elevate!"
Ryan Hoyle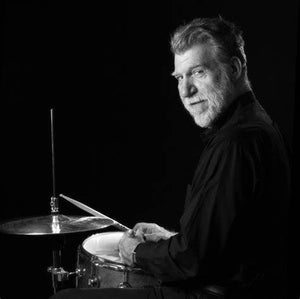 Skip Hadden
Berklee College of Music
"If you're looking for a way to better control your bass drum strokes, if you're looking for a way to be able to more easily play different dynamics with your bass drum... Then this is THE tool for you." Skip Hadden


More Testimonials
I just love the sound and feel of these Dynamic Bass Drum Beaters. The Flex in the shaft provides extra speed when playing, 2, 3 or 4 bass drum hits in a row. The Flex also provides more low end from a kick drum when recording, simply due to it's design. A sound in between burying the beater and not burying the beater. The different style and weight of the beaters from light to heavy really give me all the variations I need in recording varying genres of music. They are super versatile and I could not be happier!

Dave Allen LA Recording Session Artist
" As a recording engineer, capturing the best possible sound from my clients is my priority. Dynamic Drum Beaters make my job easier, as their flexibility, snap, and high-quality felt beater allow drummers to produce powerful, full-bodied sounds from the bass drum consistently and with ease. As a drummer, the beaters feel and sound excellent. I am able to play with full dynamic range for an extended period of time, while exerting a fraction of the effort I would have with a standard drumbeater. Dynamic Drum Beaters are a great addition to any drummer's toolkit."  

Kostadin Kamcev Drummer & Engineer www.mozartstudio.com
As one of the people whose right foot is starting to experience problems due more to age than technique, (I don't dig the beater into the head very often) the advantages of the "shock absorber" aspect shouldn't be dismissed. I'm just winding up a very busy month and my "problem foot" is no worse for the wear. I can't help but think the beater played a big part in this. it does feel like it has a lighter impact, but it evidently doesn't sound lighter.……it's working.

Tom Smith Independent Artist
Reviews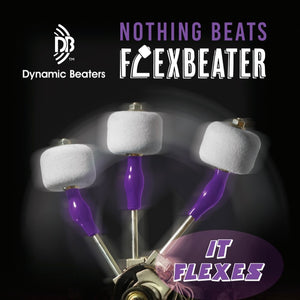 www.mikedolbear.com
Dynamic Beaters – FlexBeater
Flex Beaters are the invention of Rich Farago who designed them to improve drummer's ergonomics while performing.
What the flexion does is essentially soften the impact of the contact and also provides a spring movement improving the response.
To use, the Flex Beaters definitely provided me with two things – improved bounce and a slightly cushioned playing experience.
Admittedly, I don't have any physical issues when playing the bass drum, however, I know someone who does. Having also tried the Flex Beaters, he assures me that they do really help him with his ankle pain when playing.
As far as the playing experience goes though, anything other than a straight single stoke was genuinely enhanced and made a little easier and more smooth with either model.
I've been trying these beaters both live and at home for a few months. During that time, I was surprised at how noticeable the difference is between regular felt beaters (or indeed, beaters in general) and the Flex Beaters; they really do work.
For more details and info on how to purchase, check out – https://dynamicbeaters.com
David Bateman 
January 2019
Drum Club Magazine
Drum Club Magazine is an early supporter of Dynamic Beaters having written several positive articles on my concepts and ideas over the past few years. Thank You Drum Club!
click here for the full article Drum Club Magazine
Press
New and Notable Section of Modern Drummer
We are thrilled to be mentioned in The April edition of Modern Drummer's New and Notable section! Thanks for the support and making this possible.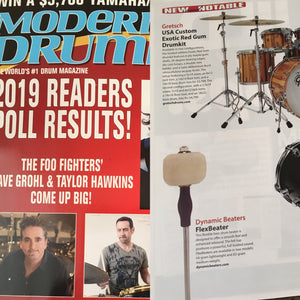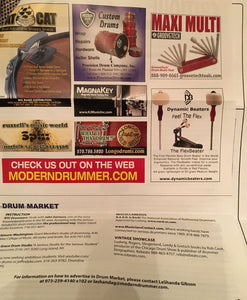 Drum Head Magazine Ads
Thank You to Drum Head Magazine for working with me to get in the magazine and all the support.
Jonathan has a great C R E W !